Login
Log in if you have an account
Dont have an account? Register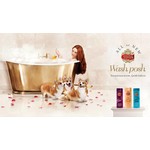 Health & Beauty
Whether you're looking for a little Lemsip to help you get through that cold! Or you want a relaxing bath with Radox. You'll find the brands you love here!
Fresh sausages & bacon deliveries come in every Friday in all stores!
Regular deliveries from the UK arrive every Wednesday afternoon. We have a wide range of chilled products available. Bacon, sausages, cheddar cheeses & dairy products. We now stock the following brands: Clonakilty, Waldron, Richmond, Walls, Denny.