Login
Log in if you have an account
Dont have an account? Register
Betty Crocker - Get that Great British Bake Off Vibe!
18 Sep 2021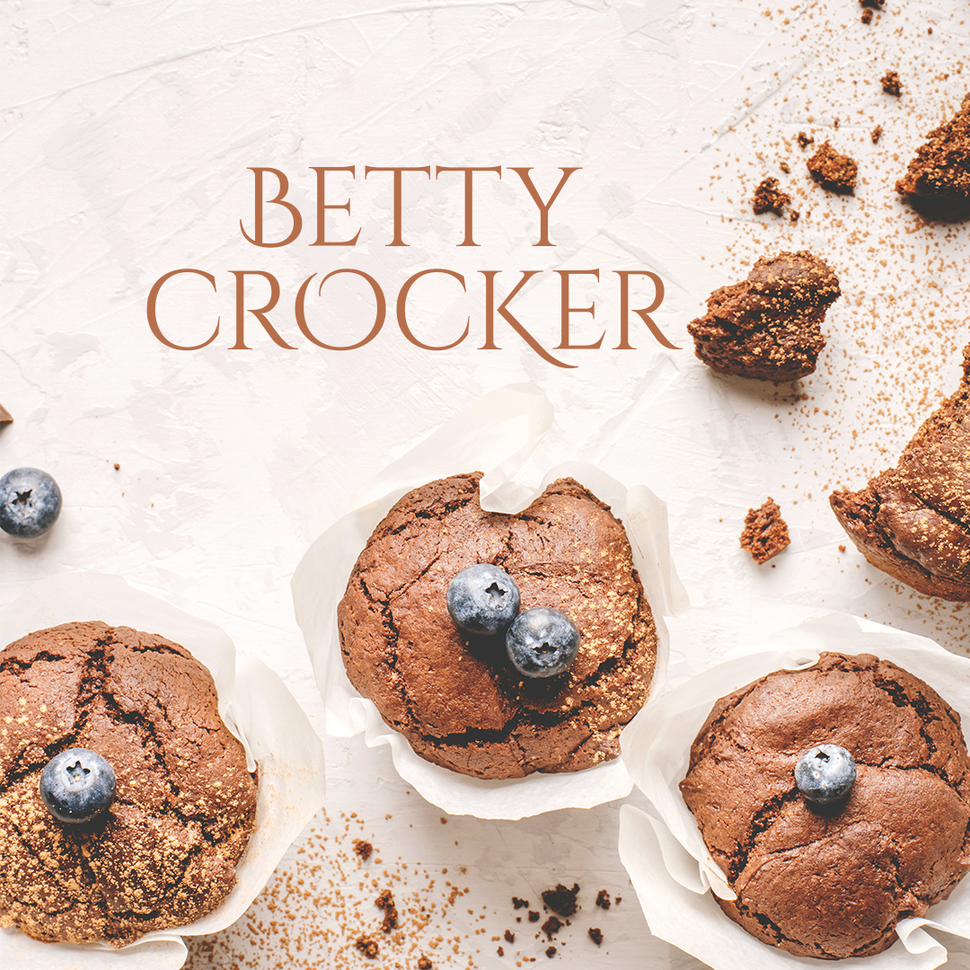 Betty Crocker - Get that Great British Bake Off Vibe!
The blog is back and this time with Betty Crocker! It has been a while since we updated, however the world of Kelly's has been a busy one (which is good for us - bad for the blog!). But we are back with a bang and that bang is Betty Crocker!
So this time we are going into a deep dive of Betty Crocker history, our ranking of the favourite cakes (and muffins… and brownies…), which icing pairs best with which cake and some fun little twists you can make.
History Time
First things first and we hate to break it to you… but Betty Crocker is made up. That's right, there is no sweet old Grandma somewhere who secretly came up with these recipes to make cookies for their grandchildren. There have been portraits commissioned, actresses playing the part and even radio getting involved, with Majorie Husted (a business woman working for General Mills at the time) voicing Betty Crocker for twenty years.
Believe it or not the Washburn-Crosby Company (now General Mills!) created this brand from a contest in the magazine The Saturday Evening Post and didn't reveal for years that Betty Crocker was not a real person!
Described as a cultural icon, Betty Crocker costumes would not be out of place at this year's Met Gala, with the theme of American Independence.
The Cakes
So, perhaps the more important part of this blog is the cakes! The thing everyone comes for, the thing everyone loves and the thing that honestly made me want to write this to begin with.
Here at Kelly's Expat Shopping, we've got them all. Whether you love the sweet Carrot Cake, have a hankering for the luscious Devil's Food Cake, or want the simple, classic Velvety Vanilla. But in this author's humble opinion, here are the top 5 we can recommend and the rich and creamy icings to pair with them!
Number 5 - Country Carrot
Coming in fifth in our selection is the Country Carrot Cake! It gives you that fun flavour without the hassle of having to thinly shred what feels like, a thousand carrots (which lets face it - is not the fun part of making the carrot cake). It's sweet but not over the top and it truly is one of the slices of cake that always goes down perfectly at any party. Pair it with the Rich Cream icing to perfectly finish it off and voilà! 
Number 4 - Zesty Lemon
Now, this one is for those who love a light, citrus finish after any meal. Refresh your palate with a little zest! Betty Crocker's Zesty Lemon balances that line between fruity and tart and is typically the one to be served with High Tea. There may be nothing better than a bright, sunny afternoon, a cup of tea and a slice of lemon cake. It's mouthwatering just to think about.  The best icing for this? Well the Zesty Lemon Icing naturally!
Number 3 - Rainbow Chip Party
This is a newer one to our stores and it has simply been flying off the shelves!  It's a fluffy Rainbow Cake made with sprinkles to celebrate literally anything! Birthday? Check. New Year's Eve party? Check. Just fancy a fun afternoon? Check. It's the cake which puts the fun in… celebratory function? Either way - you get our point! And to top this Rainbow Chip Party? A nice spread of Vanilla Icing - yum!
Number 2 - Red Velvet
Betty Crocker's Red Velvet Cake. This is one of those which is somehow both light yet rich. Many think Red Velvet is simply a chocolate cake with a little red food colouring in. However, a little fun fact - it actually has less cocoa than a normal chocolate cake! It's typically made with cocoa powder, vinegar and butter milk which causes a reaction and makes the deep red colour we know and love.
So with Betty Crocker's Red Velvet - you don't need to get the balance just right with the acidity - they've cracked it for you! Simply pair with Rich Cream Icing to get the best balance of flavour.
Number 1 - Devil's Food Cake
Come on, there was no getting around this... There was going to be a number one and it surely had to be the most popular one here at Kelly's! The Devil's Food Cake. Richer and sweeter than the Tempting Chocolate Cake (which was a close choice to be honest) this cake quite literally flies off the shelves! It's filled in all our stores several times a day, along with the matching icing of Indulgent Chocolate Fudge. (And we can't say we're surprised). 
If you have a sweet tooth, or simply a chocolate tooth - this cake is lusciously smooth and rich and is sure to hit the spot and satisfy those chocolatey cravings (And as an added bonus, it makes your house smell simply divine as it bakes!). There's a reason it's a best-seller! 
The Twist, I hear you ask?
Well that's the beauty of Betty Crocker. You are guaranteed great cakes every time. None of this having to make sure the flour is bump-less, no accidentally adding too many eggs or tiring your arms out with endless stirring. The instructions on each packet are crystal clear and the stirring is minimal.
So make whatever you want! We held a competition a while ago for the best Hedgehog cake and let's just say the results were… interesting (and delicious)! Whether you mix it up with Blueberry Muffins or gooey Brownies! You can even use your favourite flavour to try and make the lopsided cake from Sleeping Beauty (if you don't know what I'm talking about - I highly recommend looking that concoction up!) or you fancy a simple Vanilla with Jam & Cream. Betty Crocker means you never need to have a bake fail again.
And  for those who judge pre-made cakes? Well… they never need to know. Just tell them it's a super secret recipe cake instead! Your secret is safe with us. ;) 
Would you have chosen a different cake for first place? Got any cool recipes you want to share? Let us know in the comments below!