Login
Log in if you have an account
Dont have an account? Register
Happy Pancake Day! It's Flipping Fantastic! (21st February)
10 Feb 2023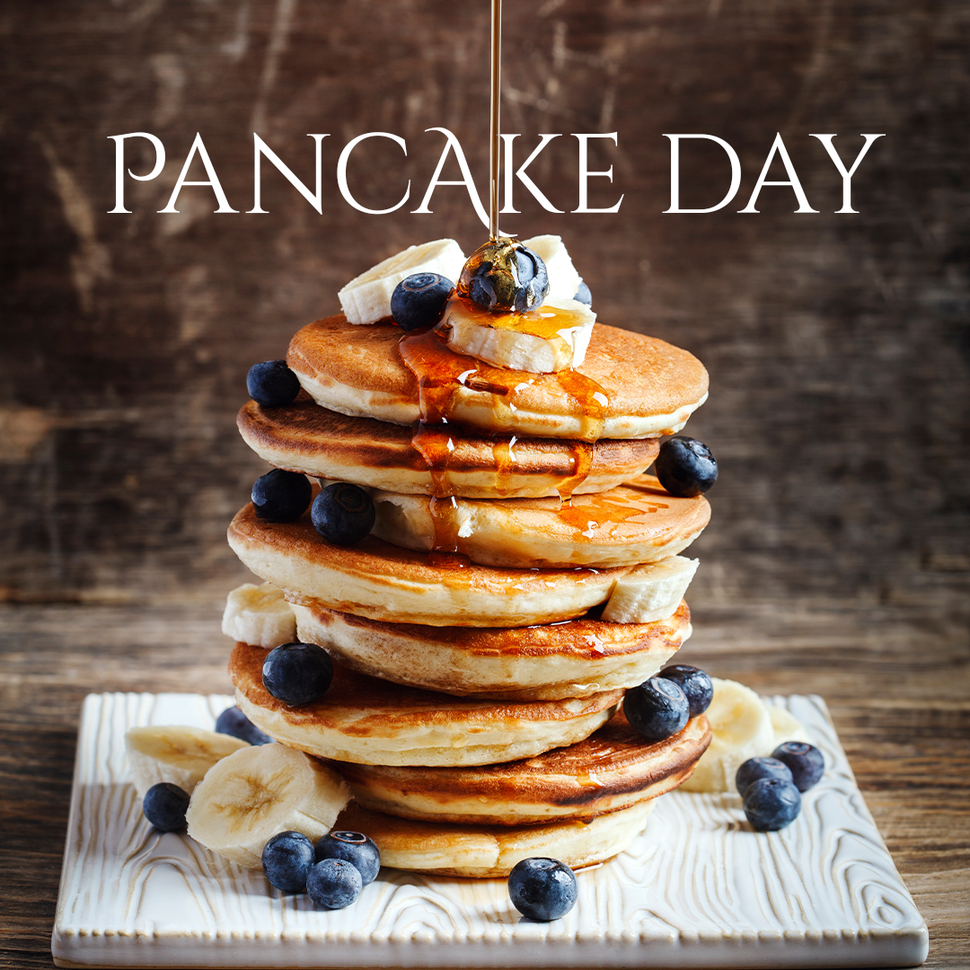 It's almost the time for Pancake Day! We're talking American pancakes and the thinner crepes too! We're talking toppings, we're talking batter, we're talking one of the best days of the year. (Can you tell we love pancake day?) 
Pancakes galore from your favourite store! So let's look at what makes Pancake Day so great... 
Pancake Day: A History of Deliciousness. 
Like many others, a lot of people don't really understand why pancake day is a thing! Where did this delightful holiday originate? Why do we have such a love of pancakes across Britain? And what exactly is Shrove Tuesday? 

So we will begin at the very beginning: Shrove Tuesday.
It always falls exactly 47 days before Easter Sunday, so the date changes yearly: This year we celebrate on the 21st February! This originated from the Anglo-Saxon Christians when they would go and confess their sins and therefore be 'shriven', (another word for absolved). They'd be forgiven and would go on to have a plentiful feast full of pancakes. It is said there would be an abundance of pancakes in order to use up the eggs, flour and lard before the beginning of Lent. The perfect meal to use up these exact ingredients.
During the 40 days of Lent, Christians pray and fast continuously - replicating Jesus's sacrifice and withdrawal into the desert for 40 days. And today, people still give up their favourite chocolates, sweets and much more in order to observe lent. And the tradition of having pancakes the night before has stood the test of time (even if you're not giving up eggs or flour for lent).  
Bonus Pancake joke: Why couldn't the pancake sleep? He kept tossing and turning!
Pancakes! 
And so Shrove Tuesday, or Pancake day continues to this day. With people enjoying pancakes for breakfast, lunch or (and!) dinner. So, here at Kelly's we want to give you the best pancake mix out there and the best toppings of course! 
Typically the British pancake is closer to that of a crepe - a thin flat cake made of batter and made in a frying pan. For the skilled chef's out there, flipping is a must on pancake day - with a little flair in the air (no spatula allowed!). The American style pancakes however are fluffier and thicker - with baking powder included as a levelling agent to make them larger. Also delicious in their own way and we can highly recommend! 
So let's start with one of the most famous American Pancake Mixes we've got! It's Pearl Milling Original Pancake mix imported straight from America. It makes irresistibly fluffy pancakes in the American style so you're sure to impress your friends and family alike. Make any moment memorable, with Pearl Milling Pancakes, when you serve a full stack of pancakes on the table!
We've also got the Pearl Milling Buttermilk - even lighter and slightly sweeter, with a smooth buttermilk taste, these are a truly irresistible flavour that no one can resist. All you need to add to both these mixes is an egg and a splash of milk - stir, and voila! Bon appétit! 
On the other side, we've also got a British mix if you are looking for a slightly thinner pancake (or just a Yorkshire pudding!) With Golden Fry Pancake & Yorkshire Pudding Mix. Super simple to make perfect pancakes:
Add 250ml of cold water and 1 medium egg. Whisk thoroughly to form a smooth batter, then transfer to a jug.
Heat a little oil in a frying pan. Pour a little batter into the frying pan, enough to cover the base thinly and swirl around to coat the pan evenly. Cook until golden. Toss or flip the pancake over to cook the other side.
Serve when cooked, then add a drop more oil to the pan to cook the next pancake! (Because you'll be wanting a stack!) 
Bonus Pancake joke: How do you make a pancake smile? You butter him up!
Toppings
And of course, it changes the pancake what you're having! If you drizzle a little lemon juice with sugar for a zesty one or add a dollop of Tate & Lyle's Golden Syrup, with its rich, warm taste and mellow mouth-feel, it's a must have for pancake season! There's also of course the full selection of Tate & Lyle's Topping Syrups - with Butterscotch, Strawberry, Chocolate & the original syrup in topping form available! 
You can even make a build station for your little ones! They'll love adding a small spoonful of sugar (or even sprinkles!) to their pancakes. We've got Hershey's Chocolate, Caramel & Strawberry syrup here too for our American customers who miss a taste of home! 
Or are you out there? Preferring a savoury pancake? Folding in some ham? Topping it with ketchup? (In which case, we're afraid you're on your own!) 
Bonus Pancake joke: Why aren't pancakes good singers?They're too flat!
Happy Pancake Day! 
Let us know if you're celebrating Pancake Day! What topping is your favourite? Are you giving up something for Lent? Or if you've got an unbeatable pancake recipe to share, 

Let us know in the comments below!
Last bonus Pancake joke: Pancake day is coming so fast... it crêped up on us!