Login
Log in if you have an account
Dont have an account? Register
Happy Thanksgiving!
10 Nov 2023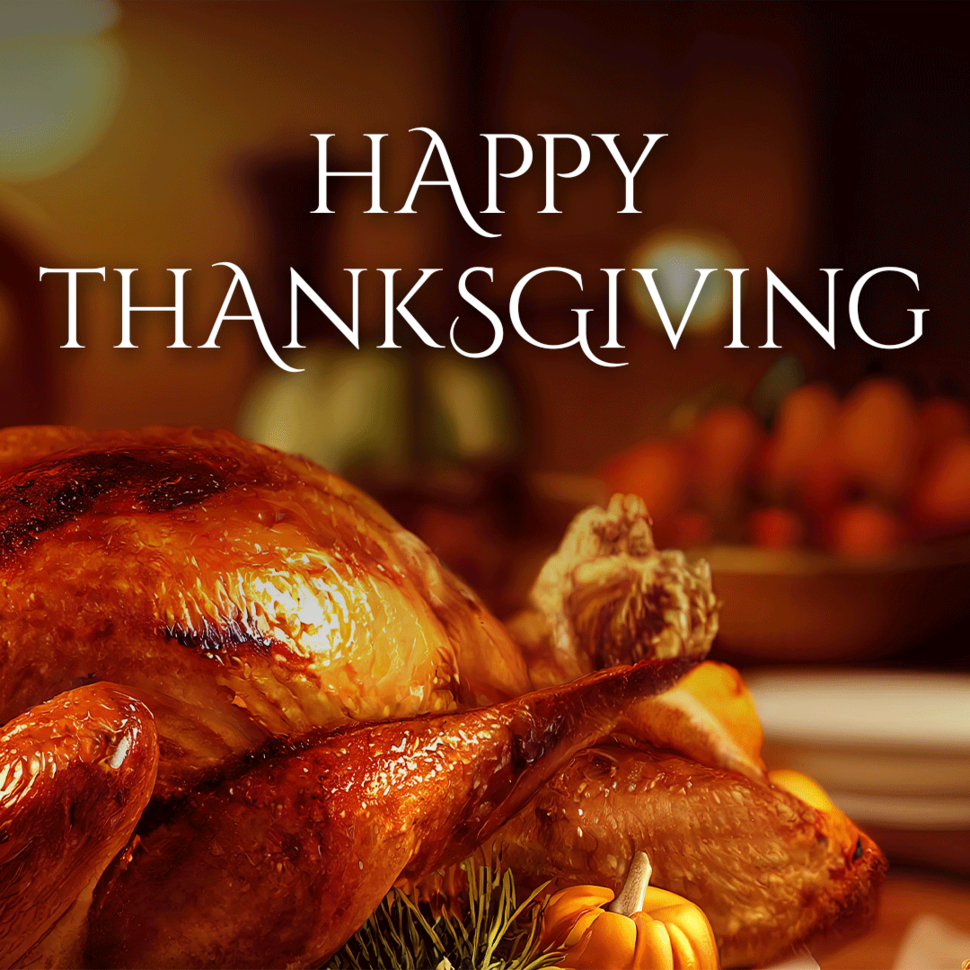 Thanksgiving is upon us, and here at Kelly's we're celebrating in style. It's time to gather the whole family, and all the favourite people in your life, and give thanks for another year! Get ready for Thanksgiving with all the essentials here at Kelly's to enjoy a proper American Thanksgiving. 
What is American Thanksgiving? 
Thanksgiving is exactly as it sounds - It's a day of giving thanks for everything you're grateful for the past year. However, back in the day, it began as a day of giving thanks for the blessings of the harvest from that year! Gathering family around to enjoy a feast together, often after days of fasting. There are different traditions, religions and stories linked to how the first Thanksgiving began. Though many connect to what is considered the first meal between Pilgrims and Native Americans, in Plymouth. 
Known as the Pilgrims at Plymouth, who after a harsh winter were almost wiped out completely. A Patuxet Native American named Tisquantum, (commonly known as Squanto), helped teach the Pilgrims how to grow corn and catch fish, before passing away the following year. He is known as one of the first liasons between Native Americans and the new settlers to America. Along with the Wamponoag leader and his tribe, who gave food to the colonists when he saw they were struggling - they helped the new settlers.
The first year was tough, but with help, the Pilgrims celebrated at Plymouth for three days after their first harvest in 1621. And though the feast and celebration was originally set up just for the Pilgrims; the surviving natives arrived and were warmly welcomed to join the celebration, contributing their own food to the meal. 
Though other souces state this is not the start of Thanksgiving - with harvest festivals being held before the year 1621. There are English traditions linked to the end of summer harvest festival, where families would fast and pray before enjoying a big feast and giving thanks for a bountiful year and thanking God before the cold winter months ahead. 
It was George Washington that proclaimed a Thanksgiving in December 1777 as a victory celebration honouring defeat of the British at Saratoga. Then in 1779, he proclamained the November 26th, as a designated day for Americans to publicly give thanks. However, there are stories of Thanksgiving originating across the country in Virginia, Florida, Massachusetts and Texas, with John F Kennedy acknowledging the claims of the earliest celebrations of Massachusetts and Virgina in 1963, stating; "Over three centuries ago, our forefathers in Virginia and in Massachusetts, far from home in a lonely wilderness, set aside a time of thanksgiving. On the appointed day, they gave reverent thanks for their safety, for the health of their children, for the fertility of their fields, for the love which bound them together and for the faith which united them with their God."
This date has obviously changed over the years, finally being settled by both houses of the United States Congress to be the fourth Thursday of November every year from 1941 to the present day! Which brings us to this year... 
What date does it fall on?
This year, Thanksgiving is on Thursday 23rd November. Over in America, they often get Thursday and the Friday off, turning it into a long weekend. However over here in the Netherlands, if you want the extra days we're afraid you're going to have to book it off.
What going into a traditional Thanksgiving dinner? 
Traditionally, it is made up of food that are indigenous to the Americas, with turkey being the most associated centrepiece of the meal (although that was most likely introduced to England by the Spaniards before they moved across the ocean). You, of course, also need all the sides: potatoes, squash, sweet corn, cranberry (usually in a delicious sauce), stuffing, gravy and and the dessert that needs no introduction: pumpkin pie! 
And here at Kelly's we can make sure you get the best of the best! Whether you need a turkey to feed a small army or a large family, you can't call it complete without some sweet yams or need that classic Stove Top Stuffing to finish off. And we've got it all! 
Starting with Turkeys:
Just to give you an idea of the size & price of each turkey in our store, so you can pick the right one for your dinner (and which fits best in your oven):
Norland Farm Large, weight from 5.6kg to 7.4kg: €58,95
Taking around 96 hours to defrost in the fridge, you need to make sure you pick it up well in advance for the holiday and clear space in the fridge so it can sit and defrost in peace. It takes around 4 - 4 and a half hours to cook. The bright side? This beauty can feed around 14 people - so invite your grandparents, siblings, cousins, friends and neighbours and get the whole family around to enjoy! 
Norland Farm Medium, weight from 4.6kg to 5.4kg: €42,95
We are getting to the party turkey. For those with a decent sized oven, the medium weighs in between 4.6 - 5.4kg so come prepared to carry this one home! Taking 72-96 hours to defrost in the fridge, it can feed around 10 people in one sitting but does take some cooking time so be prepared for around 4 hours basting and rotating that turkey to perfection.
Norland Farm Small, weight from 3.0kg to 4.4kg:  €34,95
This one is just a little larger with the turkey legs too (unlike the crown which is just the body of a turkey). It can feed up to 7 people - so it's small but plenty! It does take 48-72 hours to defrost in the fridge. 
Prim's Turkey Crown, weight 2kg: €26,95 
Small and easy to make with no legs to cook, this handy little turkey fits in most ovens. Great for those who are giving Thanksgiving roast a whirl with no prior turkey cooking experience!), and those with only one or two joining for the celebration! To thaw in the fridge, it takes 24-48 hours so make sure you get it out to defrost in time for the big day. Great for 4 people. 
Stove Top, Gravy, Yams & Corn...
Whether you would like the British stuffing by Paxo (super easy to make with hot water and a glob or butter) or want the true American Stove Top Stuffing! With Cornbread, Turkey & Chicken versions to make this meal the best it can be... With a blend of fresh baked bread crumbs, spices and real turkey or chicken broth swirled inside- it's sure to make the meal complete with a soft fluffy texture! 
We're also fully stocked on Trappeys Sugar Yams! Golden, sweet potatoes, ready chopped in a sweet syrup that makes every Thanksgiving dinner just a little extra delicious. Easy to make, you simply need to add contents of the tin to a saucepan and gently simmer until they're hot. No pesky pealing, boiling and then cooking in the oven. You can save time but don't compromise on flavour. 
Don't forget the Libby's Cream Style Sweetcorn for some farm fresh goodness! Also easy to make - they simply need heating to make this Thanksgiving reminiscent of what the first Pilgrims would have had!
Not to mention, we've stocked up on the Bird's Eye Peas, Mashed Potato, McCain's Roast Potatoes, Aunt Bessie's Yorkshire Puddings, Bisto Gravy (Turkey, Beef, Vegetable, Chicken and more!) and so much more - so you'll be all ready to go and get Thanksgiving dinner perfect! 
Last but not least: Pumpkin Pie
It wouldn't be Thanksgiving without the iconic pumpkin pie to finish it off. And this year it couldn't be easier - with Baking Buddy 100% Natural Pumpkin Puree, Nestle Carnation Condensed Milk, Schwartz Mixed Spice and Keebler Graham Cracker Pie Crust! 
Here's all you need: Ingredients (8 servings): 
1 (9inch) unbaked pie crust
1 (16 ounce) can pumpkin puree
1 (14 ounce) can sweetened condensed milk
2 large eggs
1 teaspoon pumpkin pie spice (a blend of cinnamon, nutmeg, cloves and ginger)
Directions:  
Preheat the oven to 425F (220C). Fit pie crust into a 9-inch pie dish and place it on a baking sheet.
Combine pumpkin puree, condensed milk, eggs, and pumpkin pie spice in a large bowl; mix until combined. Pour into the pie crust.
Bake in the preheated oven for 15 minutes. Reduce heat to 350F (175C) and continue to bake until filling is set, 35 to 40 minutes.
Remove from the oven, set on a wire rack, and cool completely before serving.
Voilà! Simply serve and enjoy! 
Happy Thanksgiving
So with a little history and guidance on the ingredients provided in this blog - and you will be hosting the best Thanksgiving in no time! With all the goodies nestled in our store (and online shop!) you can have an aunthentic American Thanksgiving meal with all the essentials.
Whether you love watching the Macy's Thanksgiving parade every year on the television, or settle down in front the NFL game - we hope you have an absolutely fantastic Thanksgiving!