Login
Log in if you have an account
Dont have an account? Register
Happy World Cider Day!
03 Jun 2021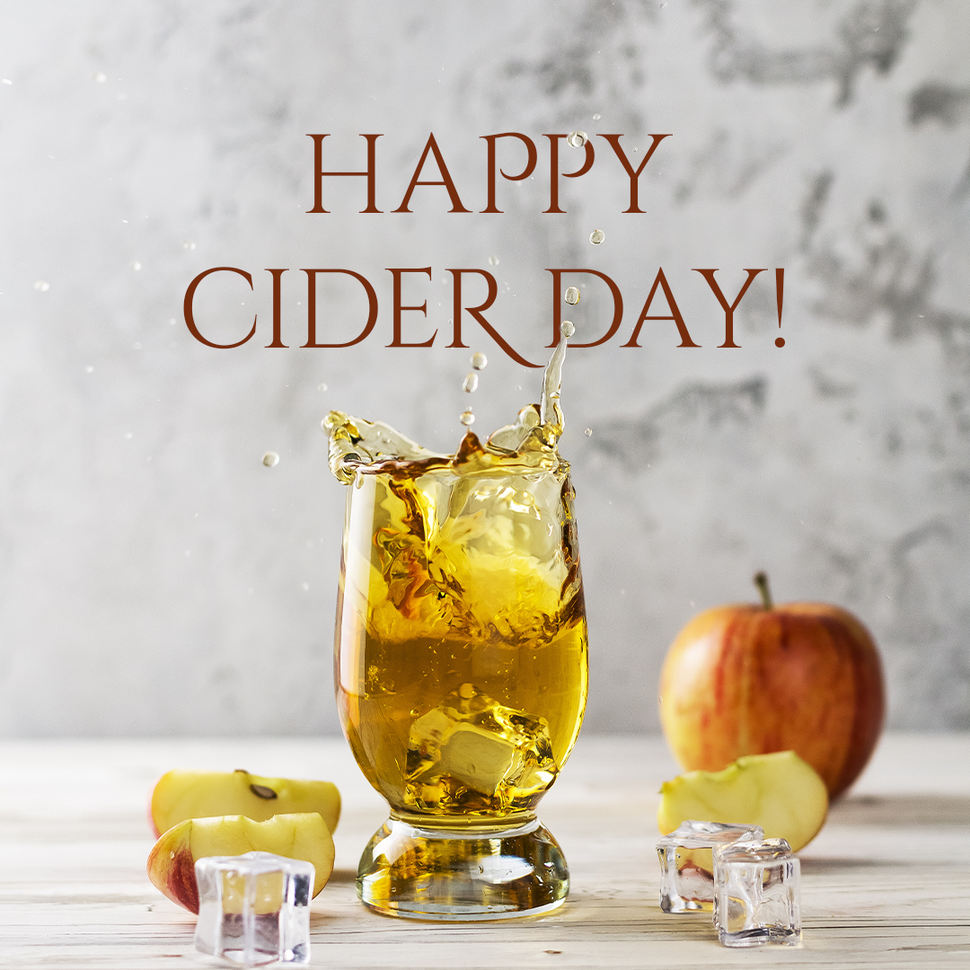 Happy World Cider Day!
It's World Cider Day! Whether you love the classic apple, the perky pear or even a fruity twist - It's a time for all cider lovers to come together and rejoice! It's the start of the summer season and there is no better way to kick it off than looking at every cider we got in stock, a little history and why we love 'em!
Mini History
The first boozy concoction to come from apples was the beloved cider! It's the fruits, which wouldn't be quite sweet enough to eat just raw. So instead, our ancestors decided to ferment them and turned into the cider you know and love today.

Fun Fact: Butterflies can become drunk! They nibble on sugary fruit and once it's fermented, which causes them to get a little tipsy! (maybe that's why they fly so loopy!)

So what's our selection like?
The Ciders
Classic - Strongbow
Starting out with the basics: Stronbow. A drier apple cider, which not only stands alone, but also mixes well with others. Strongbow cider is a classic one to kick off with and possibly considered the most famous – as it is leading in world cider sales. Produced by H. P. Bulmer in the United Kingdom since 1960 and still going strong! (That's right the same Bulmers cider you know and love!)

Want to try a timeless cider? Try the original Strongbow or its Cloudy Apple, Rosé or Dark Fruit partners!


The most popular in our store? It's the Dark Fruit for us! It delivers ultimate refreshment with fruity light notes and a nice clean finish. Share it with your friends or keep it to yourself – the sweetness never wanes!

Variety - Thatchers
Now onto Thatchers, which offers one great thing - variety! Whether you want something super sweet or on the dry side, full apple flavour, or a Rosé twist! Cloudy or clear – Thatcher's have got it all. It has been brewed on the family farm (Myrtle Farm!) in Great Britain since 1904 by the same family, which means they know a thing or two about what they're doing!

Over 115 years of experience brings you Katy, Gold, Green Goblin, Old Rascal, Vintage, Rosé and Haze ciders.

We'd love to run you through type by type (as would our taste testers). However this blog would become insanely long and we've got a huge variety to get through!

So a small overview of the best seller: Katy

The Katy Cider is the one to try! It typically sells out the fastest (in our Wassenaar branch as least!) and we simply can't keep the shelf stocked quick enough. It's a medium taste, which means it's the perfect one if your palate can't decide which it prefers. Made with juicy red apples to create a clear, crisp cider, it's simply refreshing and the one we think is perfect to introduce you to the Thatchers range.

Fruity - Brothers
We said that Thatchers had range – well let us introduce you to Brothers! Lovingly brewed in sunny Somerset in the South of England for generations. This is a family who know and love their cider and have been brewing since 1658. Building their skills, creating rich flavours and branching out their business meant they were able to open their first pub in 1842! Selling what? You guessed it – their own charming cider.

We fast forward to the year 1995 and they're selling their Pear Cider at the world famous Glastonbury Festival! (So popular they just kept going back!) Keeping the progress rolling, the four brothers (Matthew, Jonathan, Daniel and Francis) are keeping the four brothers keeping the Brothers brand going strong to this day.

So what flavours do we have on the table at Kelly's? Strawberry Lime, Marshmallow, Parma Violet, Wild Fruit, Rhubarb & Custard and perhaps the most popular – Toffee Apple Cider!

It's created with a smooth blend of cream soda and toffee to create a velvety smooth finish. Extra sweetness for your sweet tooth – simply serve over ice for a refreshing twist on a classic apple cider. Lush!

Sweet - Kopparberg
Now this is for those who really do crave the sweeter things in life. Kopparberg is a Swedish cider, brewed in the town of… Kopparberg! Created in 1882, this brewery has expanded its empire worldwide! Branching out from classic Apple and Pear tastes they now offer a wide variety of fruity flavours!

So which ones do we have? Only the best of the best of course!

Strawberry & Lime – an eternal favourite for many.
Mixed fruit – for those who love all the berries and can't decide which is best.
And of course, Cherry Kopparberg! Quickly emerging as the most popular in our stores – this one is not only rich in colour but also taste! Wonderfully refreshing, you only need to serve over ice on a hot summer's day for an instant cool down.

Timeless - Magners
This is for those who love a traditional Irish cider. Magners lean on the slightly drier side, but never loses those sweet apple notes. Created in Clonmel, County Tipperary Ireland, this brand has branched out across the world.
Produced with not one, not two… but 17 varieties of Irish Apples to give it that recognisable, satisfying flavour. The top of the bottle is wrapped in the iconic gold foil, so why not treat yourself like a champion and have a Magners?

They've also recently released a Dark Fruit version for those craving a berry packed sweeter option!


Traditional - Westons
Last but not least, for now anyway – Westons.

This may be the most popular cider we have and is constantly flying of the shelves by the case! Brewed since 1880, Henry Weston started crafting his cider from the bittersweet apples on his farm in Hertfordshire.

He created rich and full ciders with what they call 'exceptional character', and we couldn't say it better ourselves. We sell five types here at Kelly's: Old Rosie, Vintage , Vintage Medium Dry, Vintage Medium Sweet and Wyld Wood Organic.

The most popular? The classic Vintage. This is the one to watch and the one that is most often sold out here in our stores. The elegant gold label, the dry cider (with a touch of a sweet tone to it!) is what makes this cider simply unmissable. A must try for the die-hard cider fans.
Conclusion
We love them all. We can't choose just one to recommend! (And this author has tried a lot of them!) But we'd love to hear your favourite!

Have we missed one? Or do you want to hear more about a certain brand? Let us know!

#cheersfromkellys